Dulse is light weight when dried, so a pound of dulse is about the size of two loaves of bread!
The price is $24 per pound. You can freeze dulse for a year or more. We recommend buying at least two pounds, as the shipping cost for two pounds is just a fraction more than for one pound;
within Canada the postage for two pounds is from $15 to $30. Picking season starts in April and ends usually the end of September, depending on storms, tides & weather for drying.
To purchase: click on the square below the picture.
When choosing method or payment ,PayPal will let you use your credit card.
Thank you to our customers for your kind words and encouragement. The store below is closed: the 2019 season will be starting in April, weather permitting. Feel free to email in the form at the bottom of the page if you would like to be put on a list to be notified when we have dulse to sell or for other questions, comments.
Dulse is easy to ship and will keep wonderfully in your freezer to enjoy when out of season. To retain the dark natural reddish brown colour, keep away from sunlight & heat. If your dulse takes on moisture, it can be crisped again in the oven. If you like it "soft" expose it to moisture.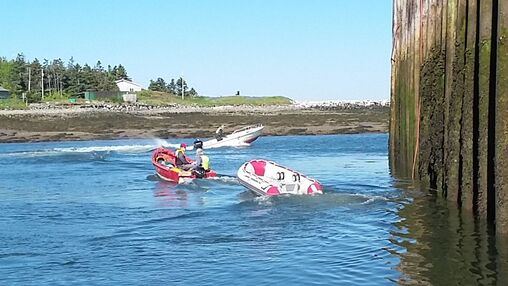 John and his crew headed out of the little harbour 1.5 hours before low tide. They will pick "like crazy" for 3 hours until the dulse is covered back up with water.